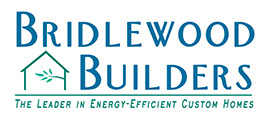 SIPS Custom Home Builder - Harrisburg, PA
The Leader in High-Performance, Green Custom Homes
Bridlewood Builders
... the SMARTER way to build!

SIPS MASTER BUILDER
In the summer of 2011, the Structural Insulated Panel Association (SIPA) launched their new MASTER BUILDER Program to help homeowners and general contractors identify trained and reputable SIP installers. Bridlewood Builders is proud to be the first company in the country to be qualified under this new Program.
Because of our expertise and reputation for excellence, we have been selected to build homes from New York to Florida to Washington State and even in Alaska and Japan. Our customers know that we do not cut corners and from start through completion, each home will be built right.
True to the name of its parent company, Leaders in Excellence, Inc., Bridlewood Builders is a leader in SIPS building excellence!
For most of us, our homes are the largest investment we will ever make. However, most Owners spend less time evaluating the quality of the builder of their home than they do checking out the car they buy.
As a SIPA MASTER BUILDER we have documented experience. The quality of our homes has been rigorously tested and the results have verified the performance to be outstanding. As part of the certification process our past clients were contacted in order to verify their satisfaction with their homes and our work. With Bridlewood Builders you know you have a builder you can trust and depend on.
To learn about what can happen when building with an unqualified SIPS builder, READ THE SIPS SCHOOL ARTICLE.
Bridlewood Builders is a division of Leaders in Excellence, Inc., based in Harrisburg, PA.
© Copyright 2019 Bridlewood Builders. All Rights Reserved