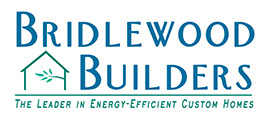 SIPS Custom Home Builder - Harrisburg, PA
The Leader in High-Performance, Green Custom Homes
Bridlewood Builders
... the SMARTER way to build!

​

PASSIVE SOLAR DESIGN
Many high-performance homes incorporate some form of passive solar design. Passive solar designs reduce the cost of heating and cooling a home by using or restricting the solar gain from sunshine.
"Passive solar design integrates a combination of building features to reduce or even eliminate the need for mechanical cooling and heating and daytime artificial lighting. Designers and builders pay particular attention to the sun to minimize heating and cooling needs. The design does not need to be complex, but it does involve knowledge of solar geometry, window technology, and local climate. Given the proper building site, virtually any type of architecture can integrate passive solar design." -- US Dept. of Energy Technology Fact Sheet for Passive Solar Design
More information on Passive Solar Design can be found at:
Bridlewood Builders is a division of Leaders in Excellence, Inc., based in Harrisburg, PA.
© Copyright 2019 Bridlewood Builders. All Rights Reserved