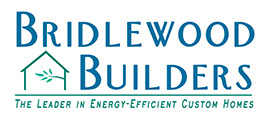 SIPS Custom Home Builder - Harrisburg, PA
The Leader in High-Performance, Green Custom Homes
Bridlewood Builders
... the SMARTER way to build!

WHAT IS PASSIVE HOUSE?
Living in a Passive House is a way of life whose principle concerns are saving energy and minimizing the home's impact on the environment. The Passive House movement originated in Europe where natural resources are scarce, but the trend is now gaining popularity in the United States.
The standards for building a Passive Home were developed by the Passivhaus Institute in Germany in the late 1980's. As the standard was implemented in the United States, builders and designers saw a need to include more flexibility in order to accommodate the widely varying climates across the country. As a result, the Passive House Institute US (PHIUS) was formed.
Both the German and US Standards utilize performance based verification as opposed to a prescriptive building method. Basically this means that during construction and finishing, the home will be physically tested to see that it meets the stringent Passive House performance standards.
There are five underlying principles that apply to Passive House Standards:
Build a super insulated, air tight, home with no thermal breaks in the envelope.
Incorporate passive heating/cooling considerations in the design, such as solar, wind, shading and site orientation.
Provide healthier indoor air and a more comfortable living environment. This is accomplished by use of a balanced, mechanical ventilation system with an Energy Recovery Ventilation (ERV) unit. An ERV provides continuous air exchange while efficiently maintaining the air temperature, whether heated or cooled, inside the home.
Use energy-efficient mechanical components and lighting. This includes the use of high-efficiency appliances and light bulbs, along with the use of natural daylight as much as possible.
Design and build in a way that minimizes the home's carbon footprint and allows the home to reach a "net-zero", or "net-positive" level of energy use. This is done through a combination of conservation and use of renewable energy sources.
As the owner of a Passive House, you will enjoy a comfortable, draft free, super energy-efficient, green home that is more durable, has low maintenance and promotes a healthier quality of life.
To build your home, you will want with a builder, like Bridlewood Builders, that understands the Passive House Philosophy, has a history of building energy-efficient homes and is certified as a builder by the Passive house Institutes US .
​

For more information on Passive House, see the following websites:
Passive House Institute US: http://www.phius.org/what-is-passive-building-
How Stuff Works:
http://home.howstuffworks.com/home-improvement/construction/green/what-is-passive-house.htm
Bridlewood Builders is a division of Leaders in Excellence, Inc., based in Harrisburg, PA.
© Copyright 2019 Bridlewood Builders. All Rights Reserved