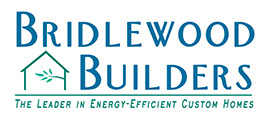 SIPS Custom Home Builder - Harrisburg, PA
The Leader in High-Performance, Green Custom Homes
Bridlewood Builders
... the SMARTER way to build!

PASSIVE HOUSE
PHIUS CERTIFIED BUILDER
SM
Bridlewood Builders was recently accepted as a Passive House Institute US (PHIUS) Certified Builder. Passive Houses are the ultimate in energy efficiency. They get their name from the idea that the homes are so well insulated and sealed that they require no 'active' heating/cooling system.
Building high-quality, high-performance homes has always been at the heart of Bridlewood's values. Our experience and proven expertise in building extremely tight and energy-efficient homes, made expanding into the realm of Passive House a natural fit.
The Passive House Building Energy Standard promoted by PHIUS is one of the most rigorous building energy standards in the world. Bridlewood Builders, like others who have obtained
the right through PHIUS to carry the graphic passive house logo and the PHIUS Certified Builder designation, is committed to design excellence and the passive house energy performance and quality criteria.
​

and PHIUS Certified Builder are certification marks of Passive House Institute US (PHIUS) used under license.

Bridlewood Builders is a division of Leaders in Excellence, Inc., based in Harrisburg, PA.
© Copyright 2019 Bridlewood Builders. All Rights Reserved