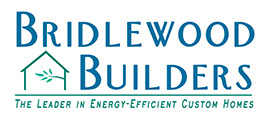 SIPS Custom Home Builder - Harrisburg, PA
The Leader in High-Performance, Green Custom Homes
Bridlewood Builders
... the SMARTER way to build!

BRIDLEWOOD BUILDERS
CLIENT WEBSITES & BLOGS
Some of our clients have taken the time to create wonderful websites, blogs or facebook pages that chronicle the process of building their dream home. Most of them are very detailed.
Many of our current and future client's have taken the time to read them from beginning to end, and have found them very informative. Enjoy!
​David and Virginia:Their story begins with looking for land and choosing a SIPS builder. Lucky for us, they chose Bridlewood Builders! Thank you, David and Virginia!!! While under construction, David installed his own whole house sound system, and Virginia did a beautiful job staining all their windows and trim. Since David is a Physicist, this Blog is loaded with valuable technical information, as well as their home construction story. http://carlislegreenbuild.blogspot.com/2010/08/above-and-beyond.html
​Mark and Leanne:Their new SIPS home is actually a very large addition to their old home. Mark and Leanne are dedicated to living a green lifestyle, and incorporated numerous re-purposed items in their beautiful new home. Mark created the fabulous penny floor for the powder room while Leanne's artistry adorned the great room walls with her incredible faux painting. Mark is an extremely talented and creative IT professional who graciously created the white-board videos on our website! Thank you, Mark and Leanne!!! https://www.facebook.com/pages/Faerewood/160232107461999
​Ron and Ginny:This lucky couple are now retired to their wonderful new SIPS home located beside a large pond great for fishing and swimming. Their home includes Solar Panels, and geothermal heat. Ron and Ginny had us tear down an old corn crib that was on the property. Some of the old posts were re-used inside and outside the house, and other lumber from the crib was turned into beautiful flooring! These two are quite the DIY'ers and have some incredible DIY finishes included in their home. Thank you, Ron and Ginny !!! https://www.facebook.com/pages/House-Construction-Adventure/142186505937633?ref=bookmarks
Bridlewood Builders is a division of Leaders in Excellence, Inc., based in Harrisburg, PA.
© Copyright 2019 Bridlewood Builders. All Rights Reserved